Eden 11" x 17" print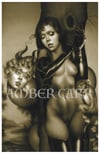 11" x 17" print featuring model Apnea.
1/2" white borders all around for framing.
*The watermark is on the web image only, not the print itself*
© Amber Carr. All artworks on this website are copyright protected with all rights reserved. The artworks on this site may not be printed, re-distributed, reproduced, posted or published elsewhere, modified, or otherwise used in any form without written authorization.